Last year for Christmas Brad gave me the book Green Christmas: How to Have a Joyous, Eco-Friendly Holiday Season by Jennifer Basye and Peter Sander with Anne Basye. It is a short, simple, straight-forward read that covers all the different aspects of the holiday season. This will be the basis for my upcoming Eco-Christmas series I am going to do leading up to the big day at the end of December.
The first area of discussion is a big one: the environment. There are three categories of the causes of major environmental unfriendliness. These include waste, emissions, and energy.

Waste
During the holidays there are an additional million tons of trash going into landfills each week. Gift wrap, cards, packaging, boxes, advertisements, catalogs, napkins, the list goes on and on. Recycling is so important for a lot of those paper products, but even recycling is not a long-term sustainable solution to all our problems. It helps to avoid having to use and produce those items to begin with. Some alternatives are to use newspaper for wrapping paper, send e-cards, opt out of catalogs, or use cloth napkins. Resusing or repurposing are fantastic ways to keep items out of the garbage, and definitely avoid non-recyclables. I am not going to focus on it, but I think food waste should be mentioned here as well. According to Use Less Stuff some 28 billion pounds of food are wasted each year - some 100 pounds per person. I just ask that we all keep that in mind especially when, according to Hunger Notes, there are 925 million hungry people in 2010

all over the world.
Emissions
These are the cause of global climate change. CO2 is the big one, but there are many other gases that are doing their damage as well. Here are some common causes of emissions during the holidays along with greener alternatives. Wood burning fires are sadly a huge harm to the environment. It makes me so sad to know that I could never enjoy a wood fire guilt-free. There are options to still have real flame and the cozy warmth though. Duraflame has created logs made from completely renewable resources and they are also cleaner burning. I remember my sister once had logs made from coffee grounds. They are an example of repurposing as well as being cleaner burning to boot. Snow blowers. Brad and I were talking about snow blowers the other day, and we think they are the ultimate representation of what is wrong with our world. They have only one use, are seasonal, are generally a luxury, have a large cost of production, promote laziness, and produce emissions.
(I do understand their use for some people in some situations, and I mean no offense if you or a loved one own or use a snow blower.)

Please shovel your driveway and get some exercise. It's a great way to warm up and burn those extra calories from snacking on Christmas baking.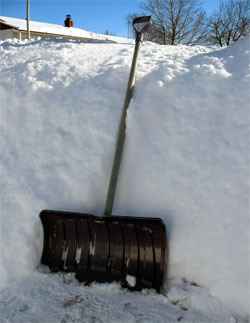 Energy
Christmas lights are of course the main issue here. Best case scenario would be not to put up Christmas lights. That is hard for even me to say. Brad and I have compromised by minimizing the amount of lights we put up, only plugging them in for short periods of time once in a while, and using LEDs. You will like these energy savings when you get your electric bill too. LED bulbs cost just 1.5% of what regular incandescent bulbs do to power. I have even heard of new Christmas LED lights that are solar powered!
This is a pretty long post, and all that information may have been overwhelming. That is the last thing I want you to feel, especially during the already often hectic and stressful holiday season. You don't have to do it all. I do encourage you though to make a goal. Perhaps reduce your household waste during a time most families are increasing it, calculate your Carbon Footprint and vow to cut it down by just 15%, or choose green alternatives for a couple holiday traditions such as wood fires or Christmas lights.



Write it here to make it real! What is your eco-friendly holiday goal?