I have had the pleasure (I use that term loosely) of watching Food Inc recently. It was so much more than I had expected, and it really truly has changed my life with regard to the way I shop and eat. I think this film should be mandatory for every individual to watch, even if only for the sake of being more informed about where his or her food comes from. I've always known that "bad" things are happening in factory farms or that organic is "better" for you, but now I actually understand what is going on and why, and it's scary.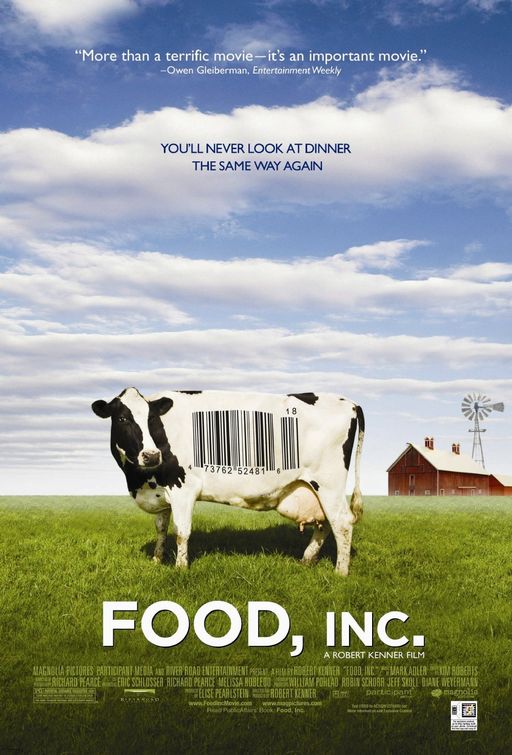 Food Inc exposes the corporate and controlled food industry of America (much of which effects and applies to us here in Canada too). They cover the topics of organic and local foods, foodborne illness, diabetes and obesity, nutritional labels, factory farming, genetic engineering, pesticides, farm worker protection, environmental impact, cloning, and the global food crisis. The wide range of issues and drawbacks with the way the food industry is operating shocked me. At the same time, the overall message of the film was empowering and inspiring. For a documentary, I also found it incredibly engaging.
What impacted me the most, and this is the point I would like everyone to take away from this blog post, was the idea presented that
buying an item is actually the act of voting for that item
. The same way our votes add up in an election to affect politics, our purchase decisions add up to the way the market responds. If I buy processed, genetically engineered foods, I am declaring that that is what I want. On the other hand, if I buy organic, local foods, I am declaring that that is what I want. If stores want to stay in business, they will provide what the people want, and the prices of those healthy choices will come down as they become mainstream.
Here's a trailer for Food Inc. I hope it intrigues and inspires you enough to go out and watch the film.
Have you already seen Food Inc? What did you think? Did it inspire you to make any changes?